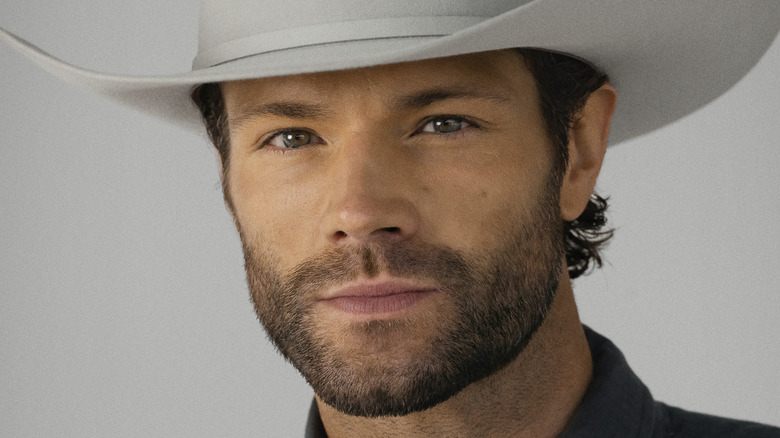 Many "Supernatural" and "Walker" fans who have had the privilege of meeting Jared Padalecki might consider it one of their favorite moments in life. Well, they're not alone — it seems Padalecki's co-stars sometimes feel the same way, including Mitch Pileggi, his on-screen dad in The CW's "Walker." Of course, the duo initially met when Pileggi played Padalecki's grandfather, Samuel Campbell — the namesake of Padalecki's character, Sam Winchester — on "Supernatural." But the two actors fiercely bonded during the series as well.
When it comes to The CW shows, the network's sets have one thing in common: The actors and crew often equate the atmosphere and dynamic to one big family. That was true for "Supernatural," and the tradition is certainly continuing in "Walker." During an exclusive interview with Mitch Pileggi, the actor shared some heartwarming stories about Padalecki and revealed why meeting the actor was one of the best days of his life.
Carry on, wayward (on-screen) son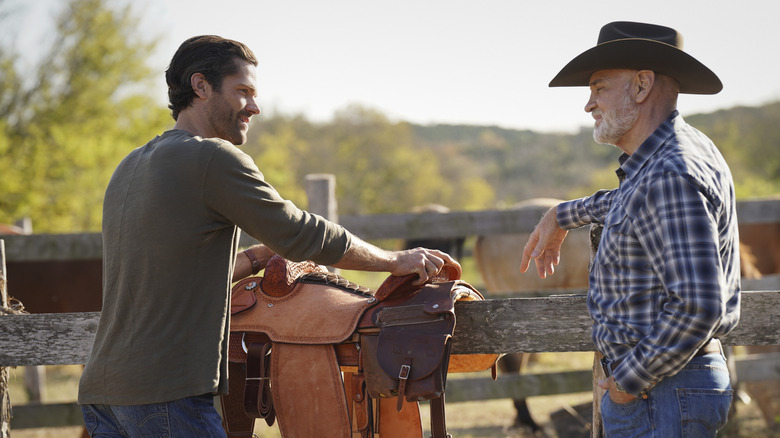 On Mitch Pileggi's favorite memories from working on the "Supernatural" set, he said, "It was fun. I was working with a lot of the guys, [and] a lot of the crew on "Supernatural" were "X-Files" crew, so it was a real treat."
The early days of "Supernatural" wouldn't have been the same without staple director and executive producer Kim Manners, who sadly died from lung cancer during Season 4. Luckily, "Supernatural" allowed "X-Files" alum Pileggi to work with him again before his passing. "Kim Manners was there when I came and did the first episode, so I got to spend a little bit of time with him before he passed, and I'm so grateful for that," Pileggi said.
"Supernatural" also brought him and Padalecki together. "The day that I met Jared Padalecki was a very important day in my life because he is one of the most outstanding individuals that I've ever come across, and I've come across a lot of people in my 70 years. I told him the other day, I said, 'One of the best days of my life is the day that I met you,'" Pileggi recalled.
They're a big ol' Texas family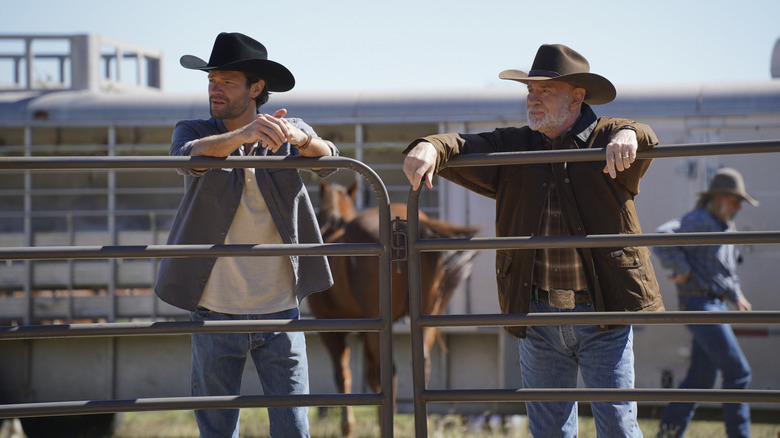 Jared Padalecki is known for being a giving guy, even with his co-stars. "You wouldn't believe some of the things that he's done for me since we've been doing this. His brother did my shoulder [replacement]," Mitch Pileggi explained. "They gave me a couple of episodes off. Jared and Anna were like, 'You've got some time off. We're going to give you time off, get your shoulder fixed,'" the actor continued. "His brother replaced my shoulder, and he's one of the best surgeons I've ever encountered because he did an amazing job."
Pileggi also shared that Padalecki and his wife, Genevieve, opened their home to the cast of "Walker" during last year's "snowpocalypse" in Texas. Given that blizzards aren't a common occurrence in the area, it was a hectic time. "There were ... 15 people and five dogs, and they took us all in without a blink of [an] eye and took care of us for a week until we were able to go home, and that's what it's like on this set," Pileggi noted.
It seems that their good rapport is infectious, as he went on to say, "The atmosphere and the chemistry between us on this set [are] something I've never experienced before. There [are] no divas. There's no drama. This is the happiest set I've ever been on, and this crew is frigging outstanding. They're stellar ... I'm so blessed to be, at this point, doing this in my career. It's pretty awesome. I got nothing but good things to say about all of this."
"Walker" airs Thursday nights on The CW, with episodes streaming on the website and CW app the next day.