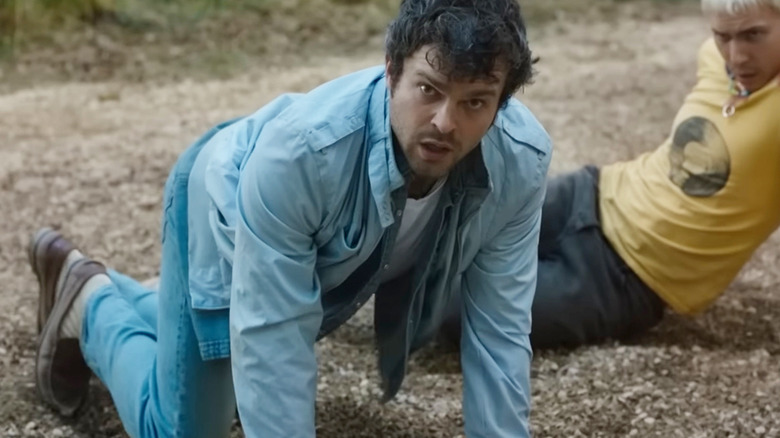 Heading into the first few months of the new year, Elizabeth Banks' absurdist comedic thriller "Cocaine Bear" was arguably among the most anticipated horror releases of Winter 2023. The film, which premiered on February 24, is about exactly what its title suggests — a bear that consumes a large quantity of cocaine.
While its premise may be over-the-top, "Cocaine Bear" is inspired by a real bear still out in the world to this day. That said, this real-life bear simply died soon after eating a massive quantity of cocaine, becoming notable merely for the odd and edgy circumstances of its death. Meanwhile, the titular character in "Cocaine Bear" goes on a murderous rampage against a human contingent, in typical slasher movie fashion.
Among those pitted against the beast in "Cocaine Bear" is Eddie, son of Syd (Ray Liotta, in a posthumously-released role), a drug lord attempting to reacquire the stash of cocaine mentioned in the film's title. Eddie is portrayed by Alden Ehrenreich, who may look familiar from either his work with some of cinema's most acclaimed auteurs or a leading role in an iconic multimedia franchise.
Alden Ehrenreich's first big role was in Francis Ford Coppola's Tetro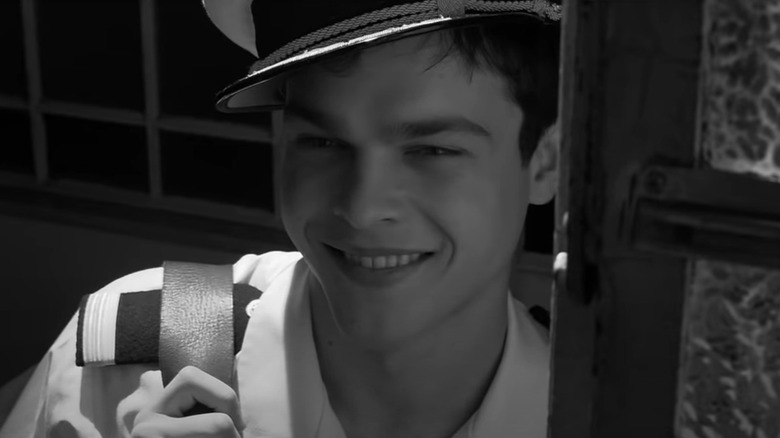 Alden Ehrenreich debuted as a screen actor in 2005, on a single episode of "Supernatural." Four years later, and with only a couple of minor roles in between, Ehrenreich appeared as one of the leads in Francis Ford Coppola's 2009 drama "Tetro."
Controversial auteur Vincent Gallo stars in "Tetro" as its titular character, whose life is upended when his younger brother Bennie, portrayed by Ehrenreich, visits his home in Argentina. Upon his arrival, Bennie is surprised to find out that his big brother isn't quite the great artist he had always imagined. While Gallo may play the film's namesake, it's the dynamic between he and his brother that's at the film's core.
"Tetro" kicked off a working relationship between Ehrenreich and the Coppola family — Ehrenreich's next role was a brief appearance in Sofia Coppola's 2010 drama "Somewhere," and after that he played a supporting character in the Coppola family patriarch's 2011 film "Twixt."
Ehrenreich gave a breakout performance in the Coen Brothers' Hail, Caesar!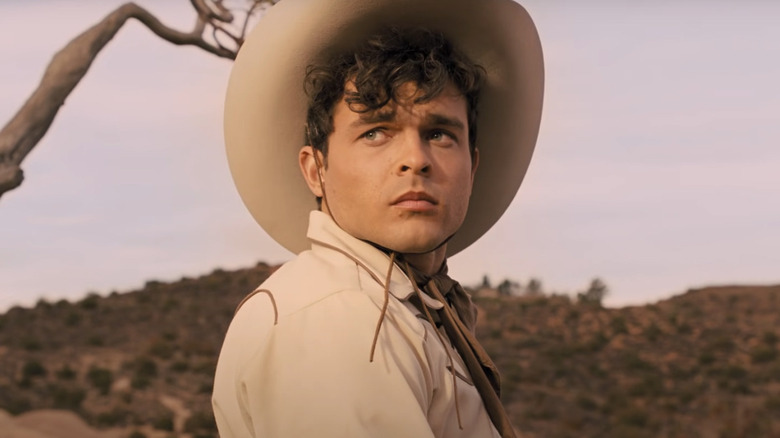 After Francis Ford Coppola's "Twixt," Alden Ehrenreich followed up a couple years absent from the silver screen with a series of appearances in four 2013 films, including acclaimed Korean director Chan-wook Park's English-language debut "Stoker." In 2016, Ehrenreich collaborated with another pillar — or pillars, technically — of modern cinema as one of the leads in the Coen Brothers' semi-historical comedy "Hail, Caesar!"
As a backdrop, "Hail, Caesar!" takes place in Hollywood in the 1950s. Ehrenreich plays a Hobie Doyle, a fictional character based on the sorts of actors who would star in popular cowboy movies of that era. Meanwhile, some of the film's Hollywood personalities become enmeshed in an absurdist Cold War espionage drama, including Ehrenreich's cowboy movie star.
Ehrenreich's performance in "Hail, Caesar!" earned him considerable acclaim on the independent awards circuit, netting him nominations from organizations like the Chicago Film Critics Association Awards and Indiewire's Critics' Poll.
He's young Han Solo in Star Wars prequel film Solo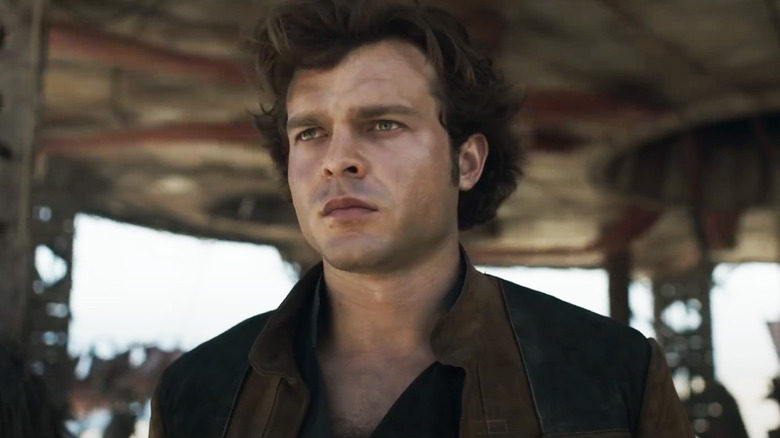 While Ehrenreich's career prior to 2018 is plenty notable for his collaborations with some of the biggest names in cinema history, his starring role in standalone "Star Wars" prequel "Solo: A Star Wars Story" that year granted him an entirely new degree of visibility among the general moviegoing public.
When "Solo" begins, its titular character is just 19 years old, before a three-year time skip following the film's opening sequence kicks off its main story. For better or for worse, "Solo" then explores key moments of Han's backstory alluded to in the original series of "Star Wars" movies, from first meeting Chewbacca (Joonas Suotamo), to navigating the Kessel Run in less than 12 parsecs.
Unfortunately for Ehrenreich, "Solo" was a divisive film for reasons largely out of his control. Simply put, Ehrenreich isn't Harrison Ford, and no matter how skillfully he might have portrayed the younger version of Ford's iconic sci-fi smuggler, measuring up to his predecessor was inherently an uphill battle. Perhaps because of the mixed reception to his performance, Ehrenreich's career seems to have nearly come to a halt in the wake of "Solo," only just picking back up again years later.
He's a central character in a TV adaptation of Aldous Huxley's Brave New World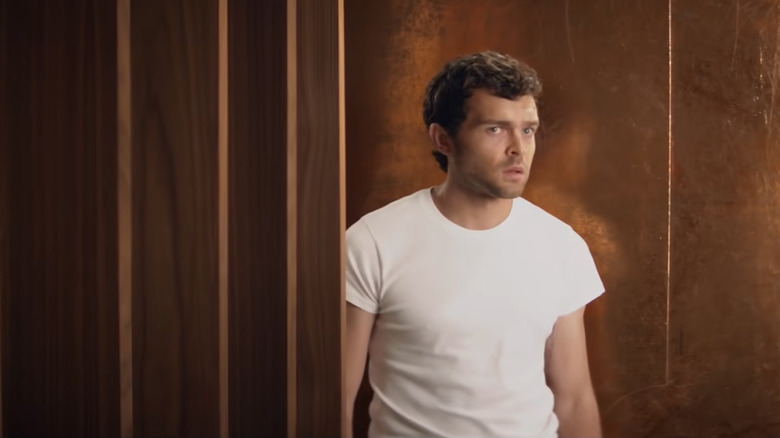 Aldous Huxley's sci-fi novel "Brave New World" was published in 1931 and quickly cemented itself as a landmark of Western literature. Whereas George Orwell's later and similarly iconic "Nineteen Eighty-Four" depicts a fictional form of strict authoritarian rule, "Brave New World" now serves as a sort of counterweight, proposing that oppression might rather take the form of societal anesthesia.
In 2020, Peacock premiered a streaming service original adaptation of "Brave New World," starring Alden Ehrenreich as a pivotal character named John the Savage. While Lenina Crowne (Jessica Brown Findlay) and Bernard Marx (Harry Lloyd) have spent most of their lives within the confines of an oppressive British society, their meeting with outsider John upends their lives and drives the show's plot for much of its first and only season.
After his break-of-sorts between "Solo" in 2018 and "Brave New World" in 2020, Ehrenreich's list of upcoming projects now includes Christopher Nolan's upcoming historical epic "Oppenheimer" and forthcoming Marvel Cinematic Universe TV series "Ironheart." Big things, then, still seem to be in store for Ehrenreich following his role in "Cocaine Bear."