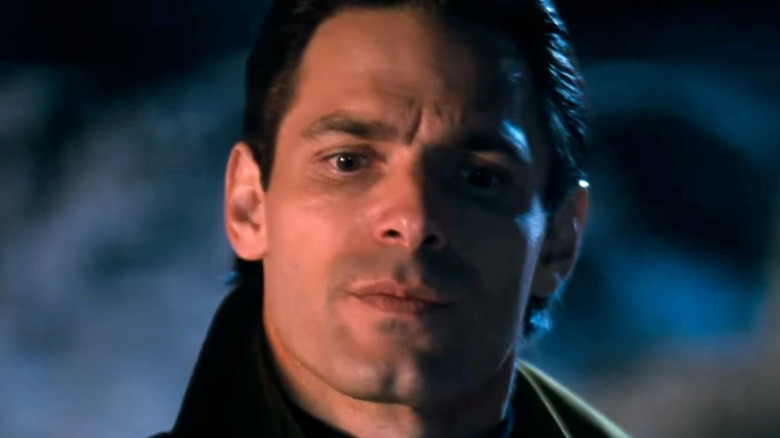 We've now hit that time of the year when the eggnog starts flowing, the presents begin appearing, and Mariah Carey's "All I Want For Christmas" is constantly playing. The holidays are a special reminder of the importance of spending quality time with loved ones, and what better way to do so than to put on some classic holiday movies? Whether it's an adaptation of Charles Dickens's "A Christmas Carol" or more Christmas-adjacent cinema like "Die Hard," there's a wide selection of worthy movies to put on while celebrating around the house. But for those who want guaranteed laughs for the holidays, you could probably do no better than "National Lampoon's Christmas Vacation."
Revisiting the Griswald family from National Lampoon's series of "Vacation" movies, "Christmas Vacation" provides a comedic look into the unexpected stressful side the holidays can provide. It's also got an all-star cast that includes Chevy Chase, Randy Quaid, and Johnny Galecki. Besides the Griswald clan, fans may also remember Todd and Margo, the yuppie neighbors who comedically fall victim to the Griswald's shenanigans. While Julia Louis-Dreyfus is instantly recognizable as Margo, some fans may be scratching their heads at the familiar face of Todd's actor, Nicholas Guest. That's likely because you've seen him perform countless TV and movie roles for decades.
Guest got his official acting start in theater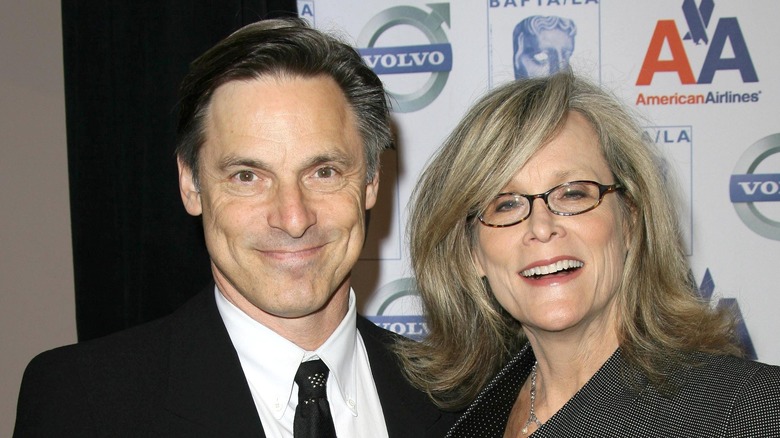 When looking at some of Nicholas Guest's family, perhaps it's fair to say that performing was in his blood. Fans of legendary mockumentaries, such as "Spinal Tap" and Best In Show," are already familiar with the actor's brother Christopher Guest. His mother, Jean Haden Guest, was at one point CBS Vice President and Head of Talent. And he noted in an interview with Joan Quinn that before a career with the United Nations, Guest's father, Peter Haden-Guest, was once a ballet dancer. While Guest eventually cemented his career onscreen with numerous movie and TV roles, his first work in acting took place on stage.
Guest's first job was onstage with award-winning actress Maureen Stapleton in the play "The Gingerbread Lady" (via Bret Adams LTD). But Stapleton wasn't the only significant name attached to Guest's first acting gig. Again in his interview with Quinn, Guest said that Anthony Perkins, the actor best known as Norman Bates in "Psycho," was the director of that play. With numerous tours of the play along the east coast, Guest received solid acting experience, all at the young age of 20.
Guest featured in a hit Aerosmith music video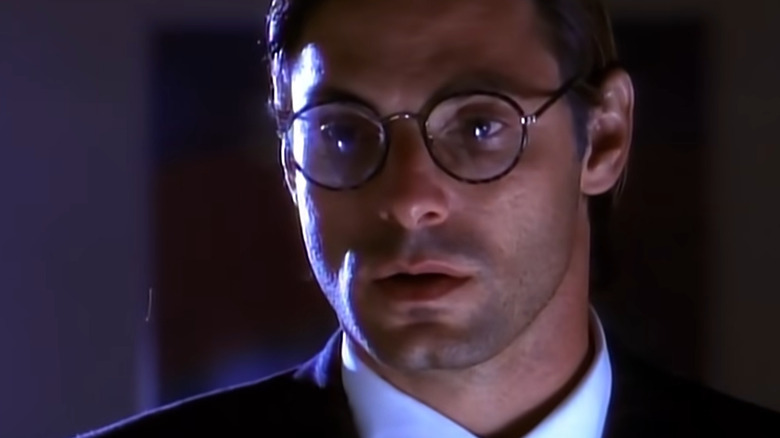 Per IMDb, Nicholas Guest's onscreen career began in the late '70s with parts in TV movies. However, it wasn't long before he appeared in some notable films in bit roles. He played a cadet in "Star Trek II: The Wrath of Khan" in 1982 and even appeared in the Dan Aykroyd and Eddie Murphy comedy "Trading Places" the following year. In 1989, Guest appeared as Todd in "Christmas Vacation." By this point, the actor had many credits under his belt. But in that same year, rock fans probably got familiar with him thanks to the band Aerosmith and MTV.
During that time, Aerosmith debuted their music video for the song "Janie's Got A Gun," Frontman Steven Tyler told Rolling Stone that he used the topics of gun violence and abuse as inspiration for the lyrics. And the music video attempts to describe the dark story found in Tyler's words visually. Guest portrays Janie's father in the video, who is suggested to be her abuser. He's later, of course, murdered by Janie. The song and the video are shockingly grittier compared to Aerosmith's other hits in the late '80s and '90s. But it displayed Guest's impressive dramatic acting without any dialogue. In addition, the music video also served as Guest's only known collaboration with David Fincher, who directed it (via Ultimate Classic Rock).
He played a headmaster for a USA Network sitcom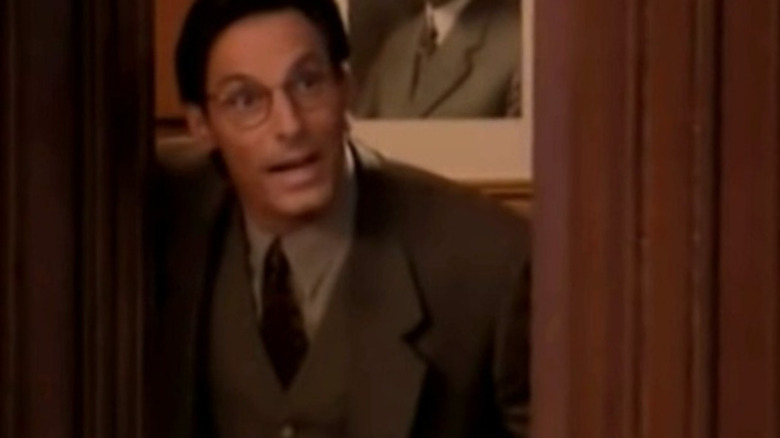 Throughout the '90s, Nicholas Guest's work ranged from featuring in direct-to-video sequels like "Kickboxer 4: The Aggressor" to "The Puppet Master 5." However, Guest also appeared in some of the decade's most notable pop culture gems. For instance, the actor worked on an episode of "Blossom," a sitcom that starred Mayim Bialik and Joey Lawrence. And Guest also appeared for an episode of arguably one of that era's most iconic dramas, "Beverly Hills: 90210." Yet the comedy genre provided Guest with one of his more extended roles in television.
Starting in 1997, Guest played Headmaster Patrick Elliot in the USA Network series, "USA High." The show centers on a group of students attending a U.S. boarding school located in Paris, France. It pulls much from the blueprint of "Saved By The Bell," as it came from that show's producer, Peter Engel (via Variety). Guest's headmaster role essentially acts as the show's version of Mr. Belding. But it's more as if Mr. Belding were slightly more charming and equipped with an English accent. "USA High" lasted for two seasons.
Guest voiced one of the most important characters on Sons of Anarchy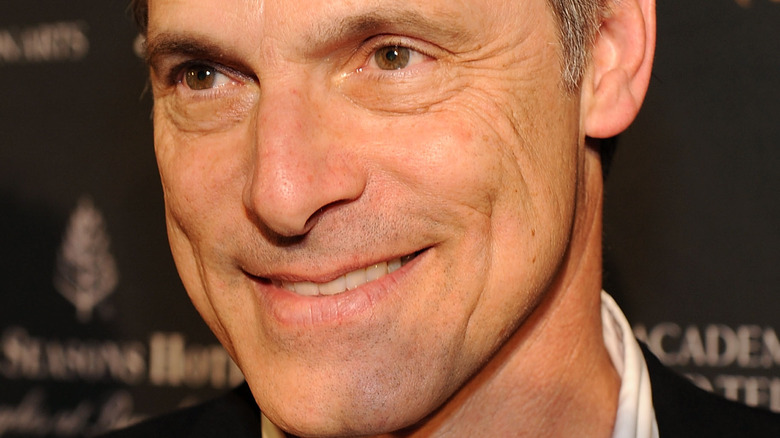 For much of Nicholas Guest's work after the '90s, the actor heavily transitioned into doing voice work. Honestly, his prolific roles in voice acting are so immense and varied they deserve their own time to break down. But let's just say that whether through some of the biggest video games or animated films, fans have likely heard of Guest's voice. And, beginning in 2008 with the FX series "Sons of Anarchy," Guest arguably provided the voice for one of the show's most important characters. The main Shakespearean tale of "Sons of Anarchy" focuses on Jax Teller (Charlie Hunnam), who heads the outlaw Sons of Anarchy Motorcycle Club Redwood Originals, or SAMCRO.
Jax's father, John Teller, was the previous leader of SAMCRO before he died, and Jax took over. Yet, although the character is deceased by the time the show begins, he still guides and influences his son through his letters. Guest provides the voice of John as we hear his words in his manuscript come to life. Throughout the series, it's as if John is still talking to his son Jax through his letters. And his words steer his son on what to do about SAMCRO. The character's impact on the series is so profound that even theories of his demise have stirred up discussion among fans.
Guest portrayed a Russian president on Madam Secretary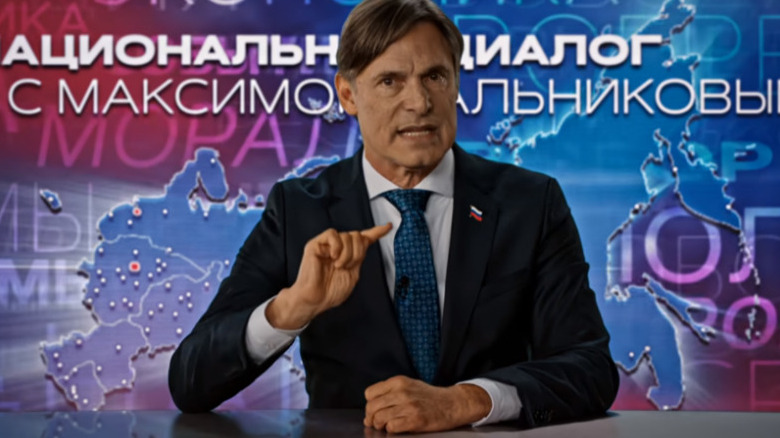 After "Sons of Anarchy," Nicholas Guest continued to make some onscreen appearances in other popular shows despite a heavy workload in voice work. In 2012, Guest appeared in an episode of "Mad Men." But in 2015, the actor got to shine as an adversary to Ichabod Crane (Tom Milson) for two episodes of Fox's "Sleepy Hollow." Guest's character, William Howe, is a British general who deals in the supernatural (via Sleepy Hollow Fandom). Afterward, Guest went from an occult general to a robot for CBS's "MacGyver" in 2017. In the reboot series, he voiced a robot that often assists "MacGyver" and his team.
For one of his most recent major roles, Guest decided to act in the world of political dramas. Beginning in 2016, he appeared in a few episodes of "Madam Secretary." The CBS series follows the character Elizabeth McCord (Téa Leoni) as she becomes the United States Secretary of State and the first woman president in later seasons. Elizabeth often has to deal with worldwide issues, such as in the episode "Mitya" when she has to negotiate with Russian President Maxim Salnikov, played by Guest. The actor does a convincing job in the role of the Russian leader, even in one scene of the episode, publicly decrying some American policies during a Russian broadcast. It mirrors some of the world's political stories found in news headlines.